When:
6 July 2020 @ 5:00 pm – 6:30 pm
2020-07-06T17:00:00-06:00
2020-07-06T18:30:00-06:00
Where:
google meeting online

Contact:
Blueline Development, Inc.
303-519-1419

UPDATE 14 JULY 2020 1:17 PM
ZONING BOARD OF APPEALS DENIED A PARKING VARIENCE FOR CHARITY HOUSE APARTMENTS, LLLP.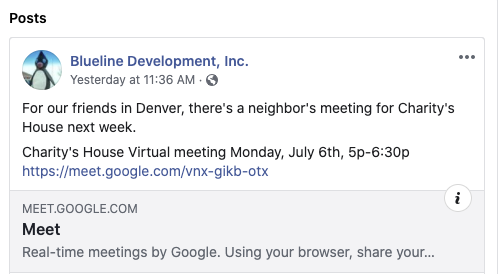 source: Blueline Development Inc. facebook page Thursday 2 July 2020 11:30 AM.


REFERENCE MATERIALS FROM CITY OF DENVER
Revised Application to City of Zoning Board of Adjustment PDF
"Appeal of a denial of a permit to erect a 36 Unit Multi-Family Structure deficient 22 of the required 27 parking spaces, and deficient the landscaping required for Perimeter Surface Parking Lots adjacent to Residential Use or Zone Districts (5 foot wide planting strip with 1 deciduous canopy tree every 25 feet required), in a C-MX-5 zone"

Zoning Board of Adjustment Public Hearing 14 July 2020 at 10:30AM
submit comments to ZBA before 8:00 AM Monday 13 July 2020.
email: [email protected]
source: City of Denver Zoning Board of Appeals email 29 June 2020.